africa
Sept. 23, 2022
OWN CORRESPONDENT
Operation 'O Kae Molao' uncovers massive illegal mining plant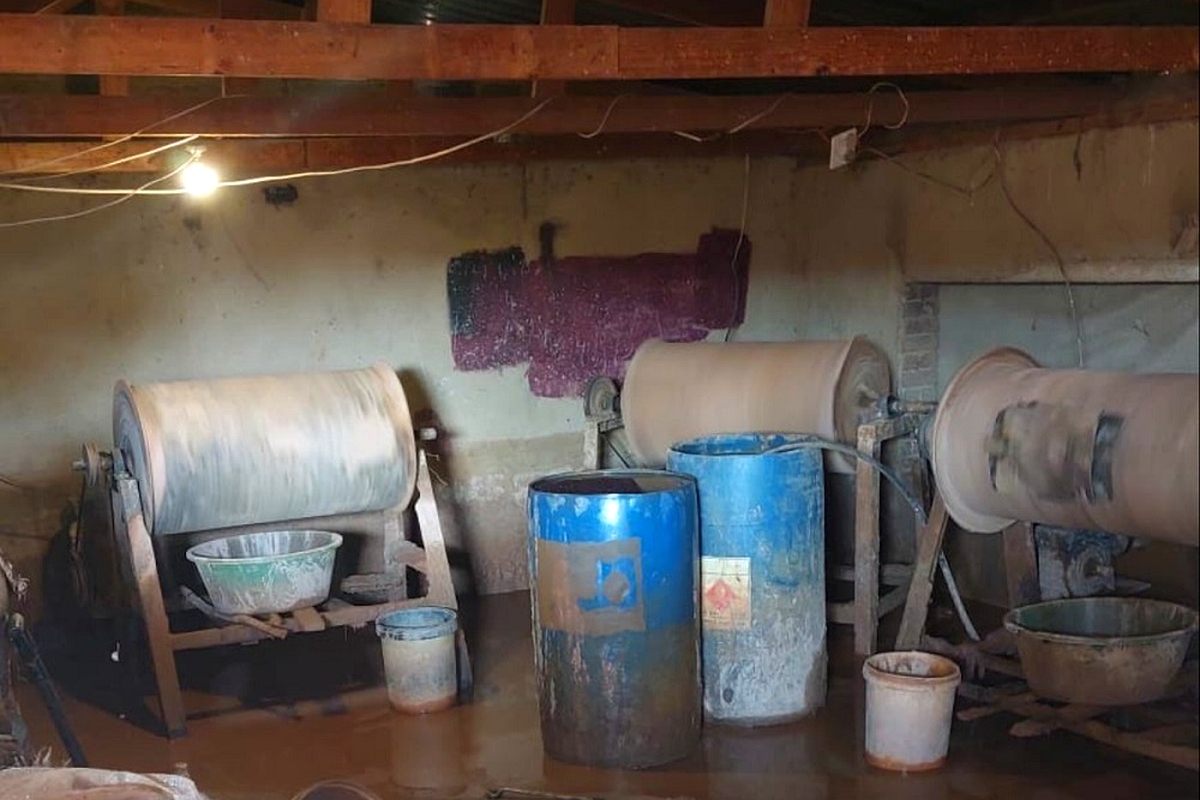 The Hawks uncovered an illegal mining site in Randfontein on Thursday
Police nabbed 14 undocumented foreign nationals

Massive amounts of drugs discovered at the illegal mining plant
Metro Audio Articles
Catch our weekly audio news daily only on Metro Radio Podcast News.
listen now
THE Gauteng provincial police commissioner, Lieutenant General Elias Mawela led another successful Operation 'O Kae Molao' in Springs on Thursday.
The multidisciplinary team targeted an industrial area where an illegal mining plant was discovered, said police spokesperson Lieutenant Colonel Mavela Masondo.
"Fourteen undocumented foreign nationals were arrested after they were found hard at work, processing gold-bearing material."
Police confiscated heavy-duty equipment which flattened the area and was used for illegal mining.
Lt Col Masondo said police among others found a car carrying mandrax tablets.
The other phase of the operation on Thursday morning conducted a roadblock on the N12 Highway. This is where a car was stopped and searched.
During the search that ensued, police found mandrax tablets valued at about R100 000.
"The driver of the vehicle, who is a foreign national, led the police to Primrose in Ekurhuleni, where more drugs worth more than R150 000 were recovered," Lt Col Masondo said.
The roadblock also uncovered a car which was reported stolen. In addition, 20 undocumented foreign nationals are also arrested.
On Wednesday night, when the operation started, detectives kicked off by tracing wanted suspects. More than 900 suspects who had been on the run for various crimes were found and detained.
"More than five cars that are suspected to be stolen and hijacked were recovered in one of the panel beaters in Springs," said Lt Col Masondo.
The Hawks arrested another nine suspects including an owner of an alleged illegal mine site at a plot in Randfontein on Thursday.
The team was arrested by the Hawks' Serious Organised Crime Investigation team in the West Rand, said spokesperson Captain Lloyd Ramovha.
Enjoy our daily newsletter from today
Access exclusive newsletters, along with previews of new media releases.
They pounced on the suspects while they were busy operating an illegal precious metals refinery at a secluded site, he said.
"Over 200 tons of gold bearing material with an estimated value of R550 000 and implements such as pendukas and generators have been confiscated from the facility," Captain Ramovha.
Eight of the suspects are undocumented foreign nationals aged between 18 and 32. The owner of the plot is a local man, aged 66 years.
"The group is expected to appear in the Randfontein Magistrate's Court on Monday, 26 September. – SA News
METRO WEATHER FORECAST