lifestyle
Sept. 7, 2021
KABELO MASOABI
NUL lecturers bring 'mamokhorong to live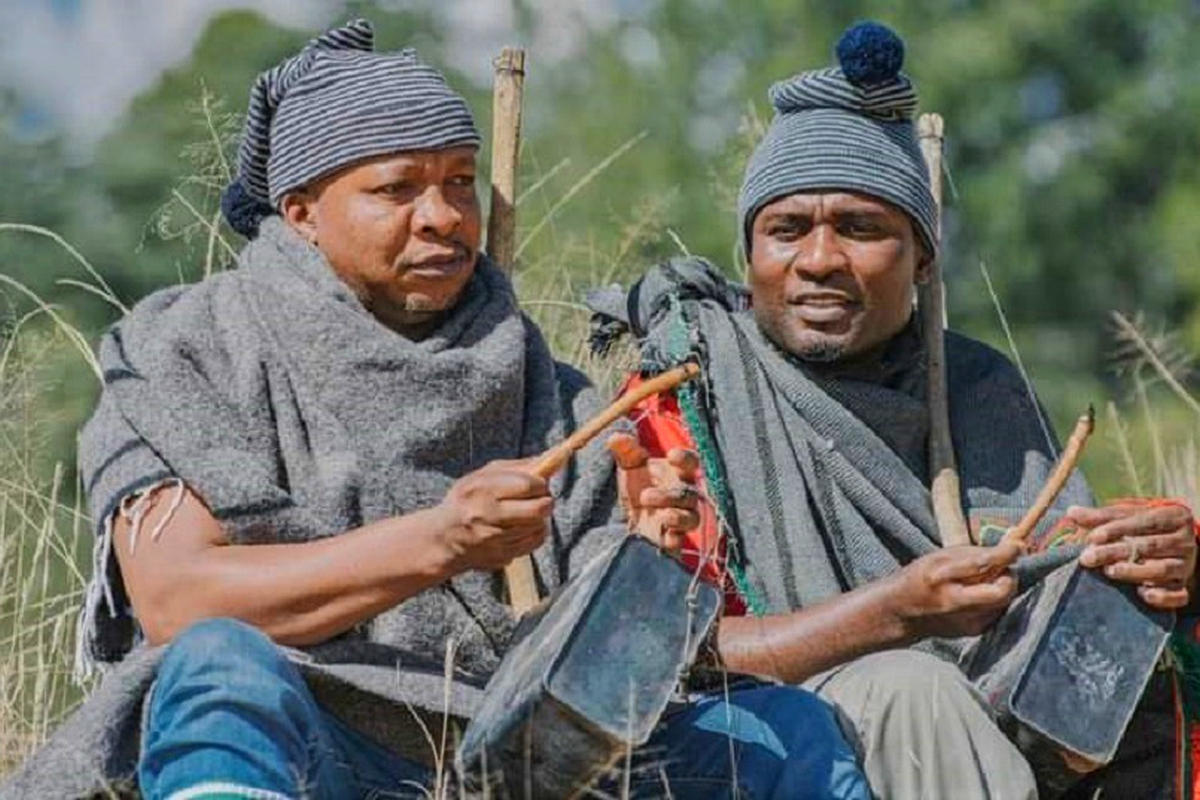 Rantšo Le Mohlomi playing their traditional musical instruments, 'Mamokhorong
Two gaining momentum as 'mamokhorong players
Hope NUL could form music department
Metro Radio Podcast
Catch our weekly audio broadcast every Friday only on Metro Radio Podcast News.
listen now
'MAMOKHORONG, which is also known as Sekhankula, is one of the latest inclusions in the fabric of traditional Basotho music.
In a bid to preserve the Sesotho culture, a two-man show by the National University of Lesotho (NUL) male lecturers, Tšepiso Rantšo and Mape Mohlomi is rapidly gaining momentum in the country and beyond the borders by promoting this traditional musical instrument.
The duo has formed a music group called Rantšo Le Mohlomi and plays 'Mamokhorong to produce fresh songs of a different nature.
Their music with much Afro-Jazz rhythm features drums, lead and bass guitars and keyboard played by renowned music producer, Nkosi James Nikelo, who also mastered the production of their album, titled "Bothoto Ke Lefa".
The two academics from the Department of Humanities at NUL believe that more needs to be done to document, preserve and recreate old types of Basotho music and instruments.
"We hope that one day the university will create the NUL Department of Music for such purposes and more," they say.
"I played Sekhankula even before I attended primary school, following in the footsteps of my elder brothers," says Rantšo, whose love and mastery of this deeply traditional music seems to be at odds with his status as a lecturer at the country's largest university.
Of course, he doesn't mind killing such outdated perceptions.
"Despite practicing the instrument for many years with my friends, I only managed to create beautiful music out of it when I was in Standard 7. Most of my peers never lived to do it. They all gave up," he recalls.
He adds: "It may look simple, but Sekhankula is one of the hardest instruments to master. It needs patience, passion and time. If you don't have a combination of the three, you won't make it."
After he finished high school, he spent two years herding cattle and sheep during which time he honed his Sekhankula skills to his level best.
Enjoy our daily newsletter from today
Access exclusive newsletters, along with previews of new media releases.
Music composed by 'Mamokhorong players is usually circular in form, consisting of a repeating verse-chorus-verse-chorus structure. The songs tend to deal with topical issues and personal experiences. The instrument usually complements the vocals, or substitutes the melody in place of the voice, while the most proficient players weave "Serobele" whistling and praise poetry into their performances.
Rantšo Le Mohlomi's debut album, available on media platforms and on CD, was released in June and carries 11 tracks including "Bophelo Bo Joalo", "Bothoto Ke Lefa", "Kobo E Thokoa", "Likhomo Basotho", "Shapa Tsotsi" and "Lerato La Bacha".
Its music video was released in August. In the video, Rantšo plays 'Mamokhorong while Mohlomi dances with two young dancers.
METRO WEATHER FORECAST